Cast

Episode Cast
Plot
| | |
| --- | --- |
| In Highgate Cemetery, London, England, a priest is reciting the final prayer for Warren Pendry, with Pendry's son, Lawrence, and other mourners in attendance. The proceedings are rudely interrupted by Inspector Gareth Lestrade of Scotland Yard, saying Warren was a scoundrel. Lawrence motions to two bodyguards standing by his Range Rover, but Lestrade brandishes a hand grenade and says he will leave as soon as he's finished his business. Lawrence, he declares to the crowd of mourners, is guilty of murdering his wife, but the elder Pendry unleashed a battery of lawyers and newspapermen, to discredit Lestrade for trying to prove it. Still holding the grenade, Lestrade approaches the casket, and says he will not let Warren Pendry be buried before someone declares what kind of man he truly was. He then addresses the casket directly, telling the deceased Warren that if he thought he had succeeded in getting rid of Lestrade, he was gravely mistaken. | |
| | |
| --- | --- |
| In Washington Square Park, NYC, Sherlock Holmes is watching a flock of pigeons when an irritated Joan Watson approaches, saying she got his text message summoning her. Holmes explains that he had a breakthrough in their latest case of the murders of three U.S. Attorneys within the last year. Each one was connected to the investigation and prosecution of a syndicate of pirates. The NYPD has been unable to establish communication between the suspected assassin, Jeromir Tomsa, and the syndicate. Sherlock deduced that they have been using carrier pigeons when Tomsa appears and grabs a pigeon and extracts a message from it. Holmes gives chase but Tomsa eludes him only to run headlong into Watson, who flattens him with her single stick. As Tomsa is taken away in handcuffs, Captain Gregson and Detective Bell try to understand how Holmes made his deductions. A call on Holmes' phone results in him asking Watson to accompany him to London to help Lestrade, his old colleague. | |
| | |
| --- | --- |
| As they are packing, Holmes tells Watson his history with Lestrade. He calls him utterly adequate as a detective, but as credit for successes went to Lestrade, he began to crave the glory. Arriving in London, Holmes and Watson take a cab to Scotland Yard and Watson asks Holmes to consider working on "step nine" of his recovery, making amends to those he has wronged. (♫ Oasis - Hello ♫) They are greeted by DCI Hopkins, Lestrade's superior and another old friend of Holmes. Hopkins briefs them on the Pendry case from 13 months previous. Lawrence Pendry reported that he and his wife, Mary, had walked in on an armed intruder in their home, and in the struggle that followed, the man's gun fired, killing Mary. Lestrade was assigned to the case and was convinced Pendry was the murderer and staged the crime scene. However, as a neighbor heard the fatal shot and police arrived eight minutes later, no gun was found at the scene, clearing Pendry. Lestrade refused to let go of his suspicions and due to his extreme actions was suspended. Hopkins wants Holmes to find Lestrade, not consult on the Pendry case. | |
| | |
| --- | --- |
| Lawrence Pendry arrives at the Yard for an update on Lestrade and meets Holmes and Watson. Pendry identifies Holmes as the brains behind Lestrade's successes. A cab delivers Holmes and Watson to 221B Baker St., Holmes's former residence in London. To his horror, he finds it has been totally remodelled and discovers that his brother Mycroft is living there. Mycroft introduces himself to Watson and the brothers explain the acrimony between them to her which includes Sherlock sleeping with Mycroft's fiance to prove she was a gold-digger. Watson is surprised as Sherlock never mentioned Mycroft to her. Sherlock becomes angrier when he discovers that Mycroft gave away all his possessions that were in 221B. Despite the hard feelings, Mycroft insists they stay. | |
| | |
| --- | --- |
| Sherlock leaves and finds Lestrade in a pub by tracking down various stashes of money that Lestrade knew about. (♫ Flogging Molly - The Sun Never Shines ♫) The pub was near to the last unraided stash. Holmes tries to apologize for Lestrade's addiction to fame and appeals to Lestrade to turn himself in. Lestrade indicates that if Holmes wants to make amends, he can help him prove Pendry is guilty. The next morning, Watson awakes to find no Sherlock. She and Mycroft talk about Sherlock and he's astonished that Watson and Sherlock are friends. A text from Sherlock summons her to an abandoned theatre where he is helping Lestrade. From crime scene photos, Sherlock ponders why the Pendrys have a bottle of milk when Lawrence is lactose intolerant and Mary was a devoted vegan. Watson mentions that Mycroft has invited her to dinner. Sherlock believes that Mycroft is seeking revenge and wants to sleep with her and that Watson also wants to as a transference of her desires for Sherlock onto Mycroft. | |
| | |
| --- | --- |
| Sherlock also wonders why one of four bronze masks is slightly lower than the others. He gains access to Pendry's home by showing him a fake murder/suicide note from Lestrade. Sherlock recommends a security review of Pendry's home and passes Watson off as an expert. While touring the home, Sherlock lifts the lower mask and discovers the nail it is hung with has a scorched tip. He apologizes to Pendry and excusing themselves, Sherlock tells Watson that Lestrade was right, Lawrence murdered his wife. At the theatre, Sherlock and Watson reveal to Lestrade that Pendry used a plastic gun made with a 3D printer which he then melted in a milk bottle filled with acetone. The scorched nail was used as a firing pin which Pendry hid by using it to hang the lower mask. Lestrade is exuberant until Sherlock points out they have no solid evidence to arrest Pendry. | |
| | |
| --- | --- |
| Holmes leads Watson into Trafalgar Square, carrying two large poster boards which asks for a list of all 3D printers sold in the last 18 months. He holds them up to a surveillance camera and loudly announces his name. After waiting for hours, Watson is bumped into and the list is placed in her handbag. Later that evening, Watson meets Mycroft at one of his restaurants and makes it clear their meeting isn't a date. Mycroft regrets she thought that he had romantic intentions and reveals that he had leukemia (which Watson deduced). He regrets the bad relationship he and Sherlock have and asks her advice on the best way to heal it and become Sherlock's friend. On a bench by the Serpentine, Sherlock has Lestrade review the 3D printer list and again tries to apologize for enabling Lestrade's craving for glory. Lestrade interrupts as he recognizes Nicholas Gint on the list who was Pendry's handyman and had an alibi the night Mary was murdered. | |
| | |
| --- | --- |
| They go to Gint's flat where Lestrade says that if Sherlock wants to make amends, he'll give him the credit for the case. Lestrade kicks Gint's door in and they find him dead on the floor with one of Gint's kitchen knives in his chest. Later, Watson and Sherlock examine the crime scene with the police. Sherlock believes Pendry killed Gint and that he would have destroyed the 3D printer months ago. Watson finds it odd that Pendry killed Gint with one of his own kitchen knives instead of a planned murder weapon and, that the position of knife shows that it was made with the stabber's left hand, but Pendry is right-handed. Sherlock realizes what happened, drops to the floor and noticing a dimple in an apple in Gint's fruit bowl, Sherlock bites into it and extracts a small splinter of plastic. He admits that he was wrong, Lawrence still has his printer and used it to build another gun. At Pendry's mansion, he opens his door to Holmes, Watson, Hopkins and accompanying police. | |
| | |
| --- | --- |
| Holmes and Watson explain that after he examined the nail, Pendry made another plastic gun to kill Gint. However, he used a a .22 long-caliber bullet, instead of the .22 short which caused the gun to explode in his hand when he fired it at Gint's back. In the struggle that followed, Lawrence grabbed a knife with his uninjured left hand and was lucky enough to fatally stab Gint. After the murder, Lawrence cleaned the pieces of plastic from Gint's home except the one Holmes found. A warrant that compels Pendry to show his right arm reveals the injuries and he is arrested. Lestrade stands outside Pendry's home grinning. Sherlock tells Lestrade that in order to break his addiction to fame, he is not to take credit for the arrest and if he does, Sherlock will discredit his involvement. The next morning, Sherlock and Watson see Lestrade on TV claiming the credit for Pendry's arrest. Watson observes that Lestrade called Sherlock's bluff and as Sherlock expresses the peculiar emotions he's feeling, Watson points out the emotions are those involved when one cares about an addict. | |
| | |
| --- | --- |
| Mycroft texts Sherlock to meet him at a storage centre. He confesses that he didn't give away Sherlock's possessions but stored them at the centre. He says he learned from Watson that he must have Sherlock's attention when telling him something important and then blows up Sherlock's possessions using books on bomb building that were Sherlock's. Mycroft says he forgives Sherlock for everything and that things are different between them now. (♫ Tunng - Follow Follow ♫) Sherlock meets Watson at Victoria Station and says that he believes he and Mycroft have reached a understanding. Mycroft's use of the bomb has revealed to Sherlock that he is not quite the indolent layabout Sherlock always took him for and, that they have more in common than Sherlock realized. "Art in the blood Watson" he remarks as he and Joan board the train to Heathrow Airport. | |
Music
Trivia
Holmes refers to one of his and Lestrade's past cases as "The Case of the Norwood Builder", which is one of Conan Doyle's Sherlock Holmes stories.
Langdale Pike, the unseen man who provides Watson with the list of buyers of 3D printers, is based on a Conan Doyle character from The Adventure of the Three Gables.
Sherlock's quote, "Art in the blood Watson, it takes the strangest forms" is taken from Conan Doyle's The Adventure of the Greek Interpreter which also introduced Mycroft. It is also the title of Episode 23 of Season Two.
Holmes fails to explain how Pendry would have disposed of the shell casing from the bullet that was fired from his plastic gun, since like the nail, it could not have been dissolved away in the acetone.
Quotes
"221B is more than nice, Watson. I spent the best part of ten years transforming it into a virtual womb of creativity. Stepping inside it isn't unlike stepping inside my very brain."
―Sherlock about 221B Baker Street
Gallery
Episode Stills
Behind the Scenes
Video
Behind the Scenes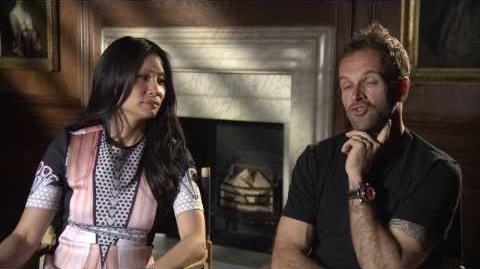 Community content is available under
CC-BY-SA
unless otherwise noted.